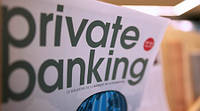 Private banking
02.10.14
September 17, 2014 the company "Personnel-technology" in the person of Yermakova Alexander signed a contract with the European Bank for finding employees for the post - Private Banker.
 In recent years, in the direction of private banking customers has changed dramatically, so European banks are increasingly focusing on private clients, who are in Ukraine and, accordingly, are ready to offer a high level of banking service (Private banking - (PB)) *, which corresponds to European standards.

* Private banking (PB) - a set of financial and non-financial services offered by banks to VIP-clients and includes a personalized service system. Selected banks in a separate business.