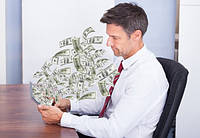 http://finance.bigmir.net/career/50357-TOP-5-samyh-vysokooplachivaemyh-vakansij-avgusta
10.09.14
In August in Ukraine were willing to pay a valuable HR up to 70 thousand. UAH., And the first line of the highest paid jobs firsts job offers are not from the sphere of IT.
This is evidenced by the rating of jobs portal rabota.ua.
First place in the top-5 ranked vacancy "Director General Holding" from the agency Sungate hr & organisational development s.onsulting paying 70,000 UAH.
Competition for this position are considered candidates with experience in similar work in the field of management and development of large shopping mall. In addition, the necessary higher education and relevant work experience, leadership qualities, MBA, unconditional computer skills, including the ability to create presentations in the format of Power Point, excellent communication skills. English - advantage.
In second place - a translator of English and French by Kenaz Translations with the payment of 50 000 UAH.
The position is open in the translation giperkompanii international format. Candidate needs to "function highly translation from English and French."
In addition to a decent wage, the employer offers a cozy and modern office in the center of Kharkov, morning coffee and biscuits, corporate spree, comfortable floating break and friendly young team.
Third place goes to the vacancy "Expert in the consolidated financial statements to IFRS (International Financial Reporting Standards) and Financial Institutions" from the agency "Personal-technology" to pay 40 000 UAH.